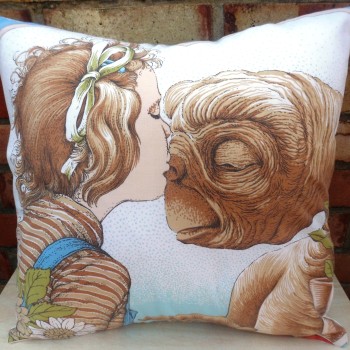 ET The Kiss Vintage Fabric Cushion – Handmade by Alien Couture
Awesome ET 'The Kiss' rare vintage fabric cushion cover, handmade by Alien Couture
Measures 17″ X 17″ approx
This listing is for the COVER ONLY.  Any standard 18″ or 20″ cushion inner will fit depending on how plump you want the cushion.  Inners can of course be purchased from our shop and will be inserted into the cover for you if you are buying as a gift.
Categories: Alien Cushions, Toy, Comic, Cartoon & TV.
Tags: Retro, Alien, Cushion, Duvet, Elliott, ET, Quirky, Vintage.